Share: 1992
Developer: Flair software

Operating system: 95/98/2000/ME/XP/Vista/7
Processor: i286
Graphic: 2MB
Memory: 8MB
Execution: Complete final release
Trolls – It is a side view platform game. It is dedicated to the toys that were widespread in the USSR and the former Soviet Union at the beginning of the "nineties". It's about trolls – little men with light and long hair who stood on end. One of these characters is control.
The game includes "trolls". Defeat your enemies in the usual way of the genre – by jumping on them. In addition to jumping, the hero can also walk left and right, accelerate and swim. Originally he can't do anything else. However, as you collect bonuses, the protagonist gains new abilities. For example, with yo-yo you can break through walls and ceilings and deal damage to enemies, with shoes you can move faster and with the help of springs people can jump higher. Reinforcements change the color of his hair. There are negative elements. The same beer makes it difficult to control the protagonist for a short time.
Set in a world full of toys. Opponents are represented by other toys. There are baby planes, cars, trains, letters of the alphabet, clowns. The landscape here is exactly like the competition. The character runs from giant pencils and giant teddy bears. To pass the level you need to find the location and collect all the miniature trolls. And to get to the bonus level you have to collect all the parts of the English word bonus. If you use up all your health, you will have to start the phase over. The character has a few extra lives.
Screenshots of the trolls: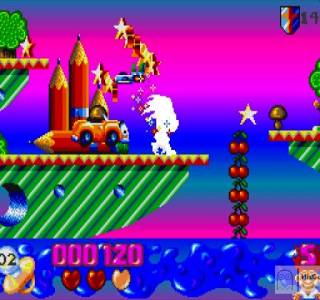 Download Trolls for free on PC
Size: 2MB. Execution: Complete final release