Share: 1994
Developer: Shadow software

Operating system: 98/2000/ME/XP/Vista/7
Processor: i286
Graphic: 2MB
Memory: 8MB
Execution: Complete final release
Jetstrike – is a horizontally scrolling shooter. This allows you to fly various helicopters and planes. These types of aircraft have a different feel. And controlling these rotorcraft can take some getting used to. The point of the game is to complete missions. Missions take you around the globe, day and night. And most often you will be asked to destroy an enemy object and fight the enemy forces. Before the mission, you can listen to a briefing that not only describes the current situation, but also advises on the best way to achieve your goal.
The aircraft can be shattered by crashing into an obstacle or intercepting an enemy projectile. Additional lives in Jetstrike have been implemented in an unusual way. The pilot ejects before destroying the vehicle. And then he gets a new fighter or a new plane. The number of attempts is limited, which is explained in the game by the high cost of equipment. If you lose all your planes, the hero will be sent to flight school for training.
In the story, the character fights against the global organization SPUDD. It helps its puppets become heads of state, carries out terrorist attacks around the world, and engages in drug trafficking and other crimes. Special services from all over the world join forces to take action against a criminal group. You rely on an experienced pilot.
Jetstrike screenshots: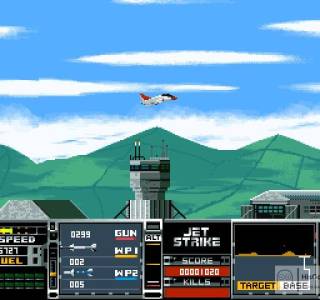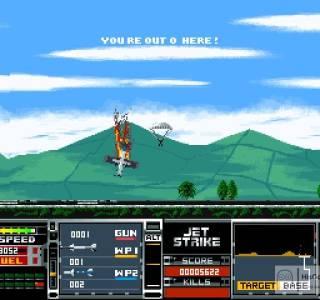 Download Jetstrike on PC for free
Size: 3MB. Execution: Complete final release