Hateful Chris: Never Say Buy Download Free
Share: 2002
Developer: furious entertainment

Operating system: 98/2000/ME/XP/Vista/7
Processor: Pentium II 300MHz
Memory: 64MB
Execution: Complete final release
Hateful Chris: Never say buy – This is an arcade platform action game with two-dimensional drawing graphics in side view. Comic style project. There is blood and flesh in the game. The title offers to wreak havoc on the city streets.
In other localizations the product is called "Hateful Chris". This is part of a small series. In this sequel, you have to kill passers-by in various brutal ways and brutally finish off the victims using special techniques. The arsenal has 30 different types of weapons for close and long-range combat. There is a submachine gun, a bat, a pickaxe, a shovel, a rake and broken bottles. Almost all of it can be bought in some stores with the money that falls from the people killed. You can also get health refills and bonuses from them. For example: destroying all enemies on the screen at the same time. The remaining items are given as rewards for completing quests. Sometimes these missions consist of several stages. For example, to get beer for a non-boy, you first have to get a fake ID.
The story is about a psychopath, Chris. Skeletal guy refuses to work with the International Infotainment Corporation. The company stole his image and created an advertising character named Creepy Danu. The antihero didn't like that. So he picked up a kitchen knife and set about taking revenge on the market traders, all the while attacking almost everyone he met. From time to time he fights against bosses, of which there are about three dozen. The narrative is watered down with sarcastic and cynical humor.
Screenshots of Hateful Chris: Never Say Buy: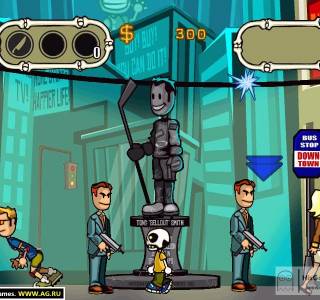 Download Hateful Chris: Never Say Buy on PC for free
Size: 511.8MB. Execution: Complete final release