FIFA 98: Road to World Cup Download Free
Share: 1997
Developer: EA Sports

Operating system: 95/98/2000/ME/XP/Vista/7
Processor: Pentium 100MHz
Graphic: 3D
Memory: 16MB
Execution: Complete final release
FIFA 98: Road to the World Cup is considered the fifth part of the series. It was the first time in the franchise that a full-fledged editor appeared in the game. It allows you to change players and entire teams. The football squad itself was redesigned.
Also known as FIFA: Road to World Cup 98. It differs from its predecessors with improved graphics and redesigned artificial intelligence. Soccer players learned how to roll balls to their teammates, open themselves up for passes, and perform other interactions with other athletes. Now you can play different combinations and change tactics often. The goalkeepers also became more credible. In addition, every goalkeeper has an individual behavior. Legendary players have special abilities. For example, a virtual Zinedine Zidane is able to rotate the ball 360 degrees. In addition, the judges show more appropriate behavior. The severity can be adjusted in the settings, as can the duration of the games. You can make substitutions between halves.
Hundreds of licensed teams, including national teams, are available. You can control your charges' movements using the mouse, keyboard or gamepad. The games take place in real stadiums. In total there are 16 of them in this sports simulator. In addition, there are many modes. There is a training session, a friendly match, a penalty shootout, the league, the World Cup, various European tournaments. Multiplayer is also available. It includes the ability to play two on one PC.
FIFA 98: Road to World Cup screenshots: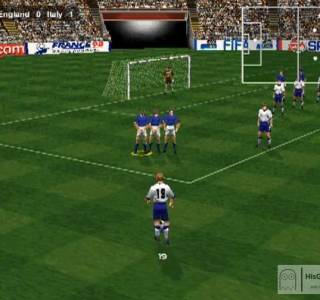 Download FIFA 98: Road to World Cup for free on PC
Size: 971.3MB. Execution: Complete final release